From Flounders to Grand Final Champs
A Look Into How the San Francisco Shock Captured History
Last season, it would have been a pipe dream to predict the San Francisco Shock as Grand Finals Champions.
But we're here now. 2019. The Shock have defeated the Vancouver Titans and become Grand Finals Champions.
The journey to the 2019 Grand Finals has been met with as much pain and defeat as joy and victory. As we celebrate the Shock's perfect victory, let's review their 2019 as there are many factors that led them to this moment.
1. In Crusty We Trust
Crusty came into the Shock with experience in the past, bringing the Boston Uprising to their first playoff appearance. It was a magical time for them in Stage Three of the Inaugural Season. A perfect 10-0 record propelled them just short of the Stage Three Finals. As part of a big acquisition in May, however, the Shock swiped Crusty from Boston.
Now let's take a moment to look at how Crusty coaches. If you've watched a San Francisco Shock match in Season Two, something of a pattern shows up: the Shock deceive their opponents at every corner.
Take Architect's now-infamous Bastion boost on Eichenwalde.
It's flashy. It's smart, nay, a stroke of genius. Not only does it grant Architect a positional advantage, but it also catches the Titans off guard. This demands of them little time to deal with Architect, making their eventual victory on Eichenwalde all the more guaranteed. What are you to do when you see this? Hope Ana's Sleep Dart keeps him down for long enough? Send Lucio up there to remove him? Those counters take longer to set up then to execute.
And this is at the core of Crusty's coaching.
He who is skilled in attack flashes forth from the topmost heights of heaven.

– Sun Tzu
The San Francisco Shock are conditioned to make strategies that there are no counters for. No amount of skill nor maneuvering can prepare the Shock's teams against their play. This extends not only from play in-game but to entire team lineups.
In rare instances, the Shock will employ players like Nevix and Super (as hard as it is to believe the latter) in situations where the team is sure to win, or they plan to employ a strategy unique to them. A certain lineup for the Shock may denote a special strategy for a map, something the opponent may not see coming.
These examples of Crusty's coaching, intended or not, are at the core of the Shock's success this season.
2. A Truly All-Star Team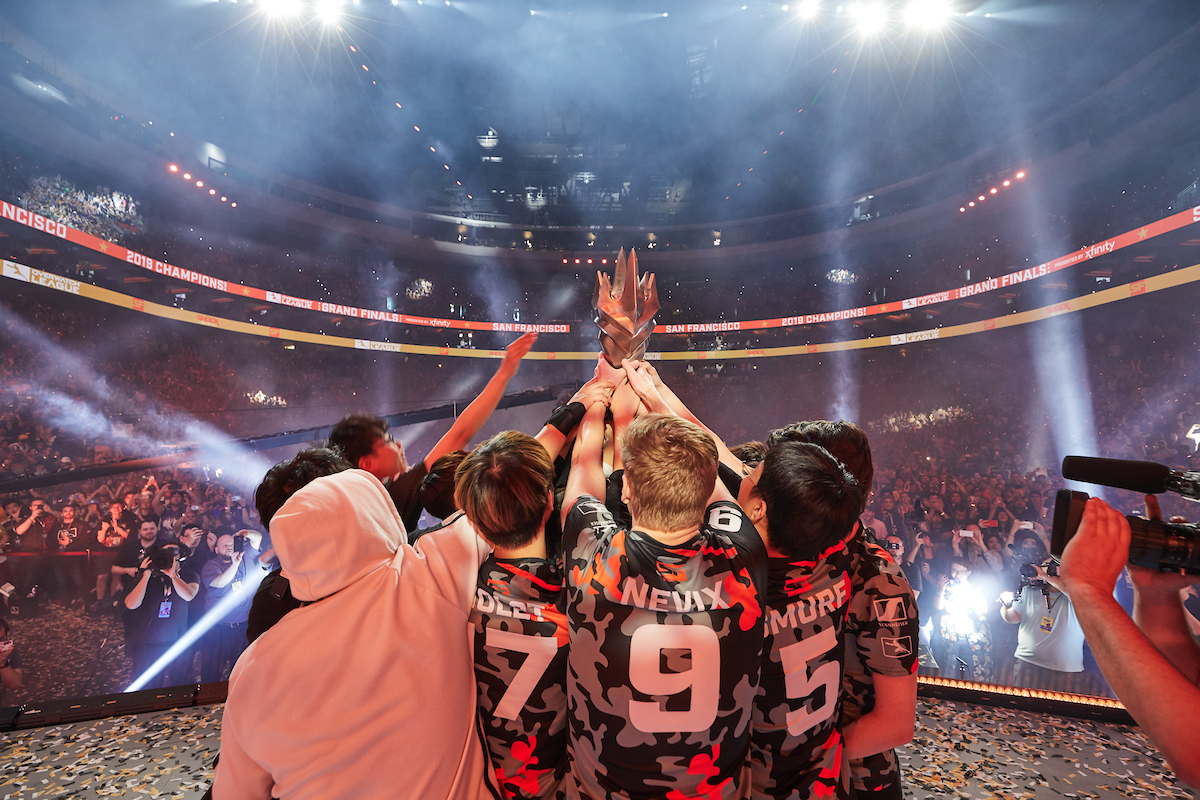 From the beginning, the Shock have flaunted a roster of promise. From Danteh's incredible improvement and dominance of Sombra, to Nevix's nearly unrivaled flexibility, the Shock have not been short on talent.
Their biggest payoff, however, has been from their acquisitions: Sinatraa, Smurf, Striker, Rascal, Moth, Vi0l2t, Architect and ChoiHyoBin. These are the staples of the Shock we now know and celebrate. There are so many I could review, but I will stick with just three.
Sinatraa: Mr. 150k
The T-Mobile MVP of the 2019 season, "Mr. 150k" Jay Won has cemented himself as the star player of the Shock. Fitting any DPS role you can think of, he has proven himself to be a deadly and adaptable player. His performance on Doomfist eclipses all others, outplaying his rival Haksal on the Vancouver Titans. Setting up many plays and finishing fights before they can have a definite winner secures his top spot on the Shock's roster.
ChoiHyoBin: The Tank Savant
To truly appreciate ChoiHyoBin's skill as a tank, you need only look at his development on Sigma in Stage Four, the playoffs and the Grand Finals. ChoiHyoBin deserves every inch of the Grand Finals MVP award with how instrumental his play was. He saved and set up teammates in fights, ran wrenches through the Titans' gears, and made their lives hell on Earth, both individually and as a team. His performance speaks volumes of his impact on the upcoming Overwatch League season.
Moth: Four-Winged Angel
Grant Espe isn't a loud-mouthed guy. I first met him during the California Cup and from the moment he explained the team's play, I could tell he was the glue that kept the team together. A brilliant mind and the epitome of a supportive… well… support player, Moth has secretly been the wind at the backs of the entire roster. Most of the survivability and versatility of the Shock has been through Moth's gameplay, and it would be a crime to not utilize and appreciate it in the next season.
Make no mistake, however: these reviews of Sinatraa, ChoiHyoBin and Moth are not at all to diminish the efforts and skills of the rest of the roster. Rascal's Pharah and Mei are beyond reproach, Architect's moments of brilliance and Vi0l2t's devotion to healing all combine into one juicy, mammoth of a squad.
3. A Fire to Ignite Them
There was a moment just before the FIFA Women's World Cup 2011, where the coach of the Japanese team employed a peculiar motivational tactic. He showed a slideshow of images from Japan, depicting the damage the country suffered after the devastating Tōhoku earthquake. It was said to have motivated the woman's team beyond compare, and they ended up winning in the finals against the USA.
Why is this story relevant? Observe Moth's reaction to their C9 against the Atlanta Reign in game one of the Playoffs.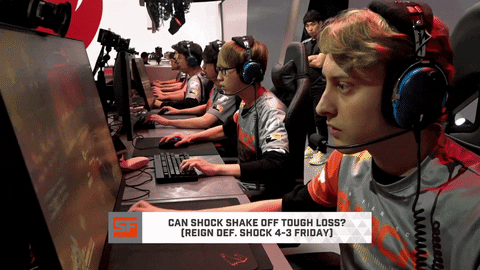 If that isn't their World Cup motivation moment, I don't know what is. I can't say whether or not Crusty showed this GIF to the team over and over again, but you can definitely believe it lit a giant fire underneath them.
The Shock were in the loser's bracket, faced with either rolling over and dying or beating every one of their next opponents.
And by God, did they beat them.
A 4-0 against the Spitfire, 4-0 against the Gladiators, 4-0 against the Spark and another one against the Excelsior. It was the perfect Playoffs. In nearly every one of those games, the Shock knew the circumstances they were unintentionally toying with. Losing at any point against their opponents would have spelled doom for their Grand Final chances.
And when they finally met the Titans in the Grand Finals, that mentality may have still been active. It may have been a supplement to their continued storyline with the Titans from Stage Two. Or it could have been both at the same time. Whatever combination of factors, the Shock, consciously or not, used this defeat as a reason for them to win no matter what.
They did exactly that, culminating in a much deserved Grand Final victory.
Closing Thoughts
As we head into the off-season, the San Francisco Shock have a lot to deal with. Every team will go through restructuring, dropping and picking up new players, staff, strategies, the whole package. To stay atop the mountain, the Shock will need to solidify their understanding of the game at every pass. With Crusty still in charge, the Shock's future is bright and will surely say to the world that there is such a thing as an aftershock.